On the occasion of 69th Republic Day Ministry of Corporate Affair Starting Business easier for Private Limited Companies and LLP's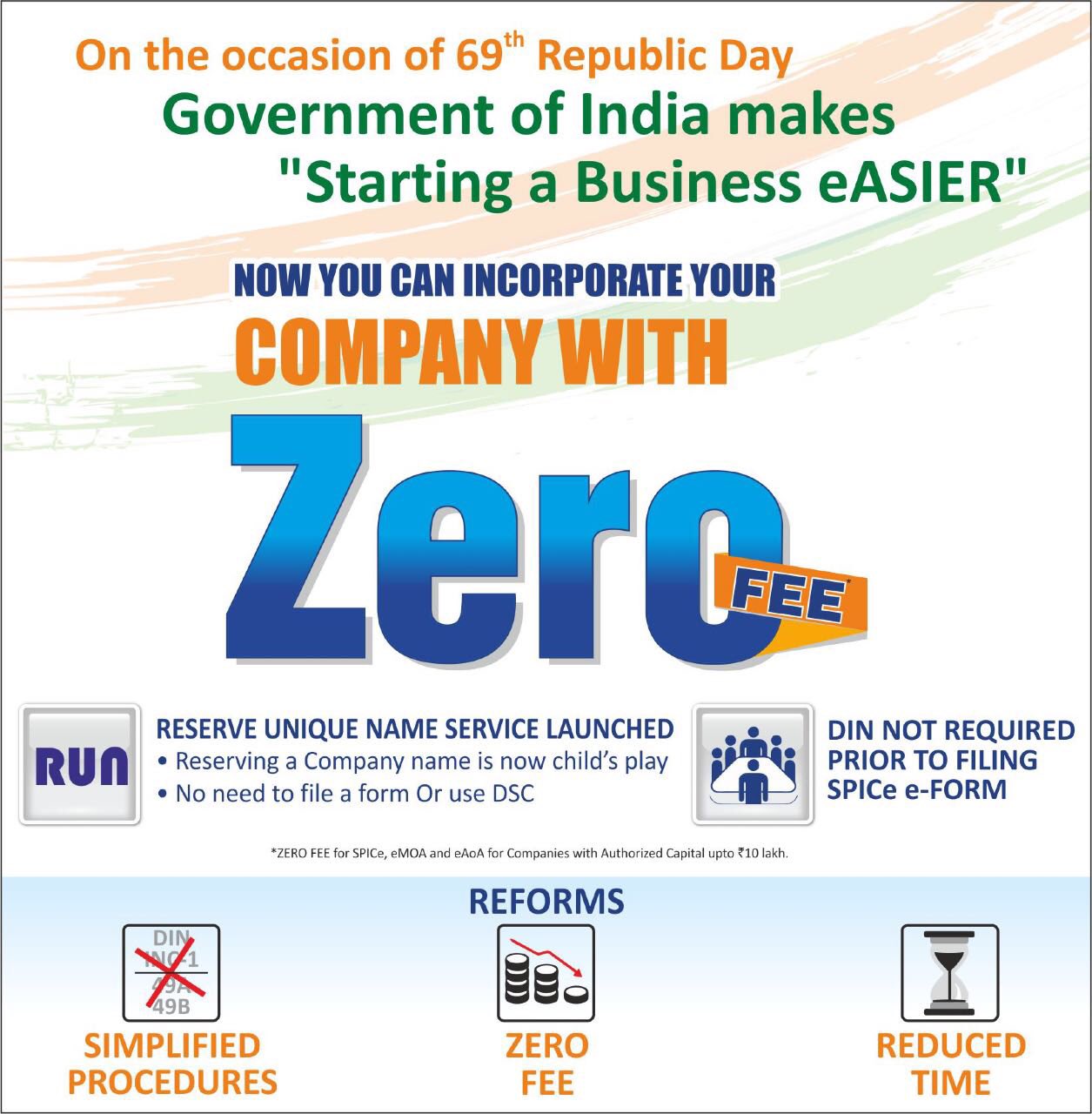 Reserve Unique Name (RUN) Form (Revised Name Approval Process)
An application for reservation of name shall be made through the web service available at www.mca.gov.in by using RUN (Reserve Unique Name) along with fee of Rs 1,000 which may either be approved or rejected, as the case may be, by the Registrar, Central Registration Centre".
RUN a new platform for reservation of name of the Company. All you need to know about is:
A small Web form with 4 information
– Entity Type
– CIN, only in case of name change
– Proposed name (Auto check facility available)
– Comments (Proposed objects and any other comments)
An approved name is valid for a period of
(i)20 days from the date of approval (new company) or
(ii)60 days from the date of approval (existing company).
Director Identification Number (DIN) Application – Revised Rule
As per revised amendment now if you want to apply for DIN then you can apply via SPICE Incorporation Form, DIN will be issue only at time of Incorporation only.
As per new rule DIN will be issued to company to which the Director would be added and DIN Declaration to be mentioned the CIN Number.
In short allotment of DIN by allotting it through combined SPICe Form only at the time of an individual's appointment as Director(in case he/she doesn't have a DIN).
Zero Fee for Incorporation
Ministry of Corporate Affairs announced  Zero Fee for incorporation of all companies with authorized capital up to Rs.10 lakh.
'Provided further that in case of companies incorporated, with effect from the 26th day of January, 2018, with a nominal capital of less than or equal to rupees ten lakhs or in respect of companies not having a share capital whose number of members as stated in the articles of association does not exceed twenty, fee on INC-32 (SPICe) shall not be applicable".
Form No.INC-7 shall be omitted;
"Provided further that in case of incorporation of a company having more than seven subscribers or where any of the subscriber to the MOA/AOA is signing at a place outside India, MOA/AOA shall be filed with INC-32 (SPICe) in the respective formats as specified in Table A to J in Schedule I without filing form INC-33 and INC-34";